Welcome

Kia ora

Welcome to the 2022 school year.

While we await the threat of Omicron defining our reality in coming months we hope you can reflect on a glorious summer and reasonable freedom.

Vernier have made a kind offer to help distance learning. Vernier Video Analysis and Graphical Analysis are available for a FREE trial period from now through to June. Both products are extremely useful teaching and analysis tools in Physics and across Science subjects and are easy to build into distance learning activities.

We are also thrilled to be NZ agents for Turing Tumble. This fantastic product has hit the world by storm. Suitable for years 8 to adult this game and its activities challeng people to build solutions that grow understandings of programming. Immersed in the fun, they wont relaise they are coding!

Great for classrooms and as educative presents that will be appreciated!

Nga mihi mahana

Les, Bill & the Electroflash team

Please note that online orders are compiled in the shopping cart & sent to us for dispatch. Invoices accompany All orders. Pricing may vary slightly if there are recent amendments. Pricing is GST exclusive.
New Products!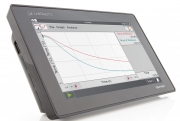 - Lab Quest 3 logger
The all-new LabQuest 3 is a standalone data-collection platform that students can use to collect, analyze, and interact with data efficiently. With its new capacitive touch screen, students can navigate the platform with ease, and because of its wireless capabilities, students can collect data anywhere with LabQuest 3.
Connects wirelessly to the entire family of Go Direct® sensors
Easy-to-use platform enables students to generate graphs and analyze results
An excellent choice for laboratories, classrooms, or in-the-field investigations
Key Features
Full-featured data-collection platform
Compatible with all Vernier sensors
Large, high-resolution color screen
Touch navigation utilizing gestures
Fast data collection with 100,000 samples per second
Rechargeable, high-capacity battery
Built-in GPS and microphone
Wireless connectivity with Wi-Fi and Bluetooth® wireless technology
Built-in apps include Calculator, Periodic Table, Sound Recorder, Stopwatch, and more
Student instructions for over 75 of our most popular experiments included
Connectivity to Chromebooks, Computers, iPads tablets and Mobile Devices
Students can share real-time data with multiple devices for a truly hands-on, collaborative learning experience. Use LabQuest 3 to transfer data wirelessly to computers, Chromebooks, or mobile devices running Graphical Analysis™.
USB Sensor interface
If you want to use your own computer or Chromebook™ to collect data, use LabQuest 3 as a conduit between our LabQuest sensors and these devices. LabQuest 3 works as a USB sensor interface with our Logger Pro® software or Graphical Analysis app.
$990.00 NZD
Read More